When Should You Schedule a Ceiling Fan Repair?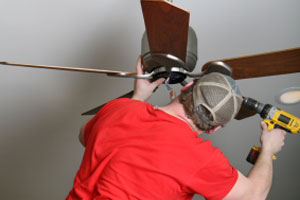 Ceiling fans are common fixtures that Norcross homeowners may take for granted until they begin to malfunction. When problems occur, an experienced electrician can troubleshoot the complication and perform a ceiling fan repair. Ceiling fans increase the energy efficiency of your home by limiting your need to use your cooling system in warm months. Ceiling fans can also be reversed to circulate warm air during cold weather, reducing your heating bill. Generally, ceiling fans consist of blades, an electric motor and housing, and a mounting device.
Broken Pull Cord
If the pull cord breaks, the fan will remain in its current setting. Depending on the ceiling fan style, the cord switch unit can be replaced or simply reattached. Before repairing a broken pull cord, make sure your circuit breaker is turned off.
The Ceiling Fan Won't Work
Sometimes ceiling fans just don't work, a problem that can result from a tripped circuit breaker, a reverse switch in the neutral position, a faulty wire connection, or a defect regarding a specific ceiling fan model. If you can't determine the source of the malfunction, contact an electrician who can check for possible causes of the problem that you haven't thought of.
Wobbly Ceiling Fan
Loose screws, warped or dusty blades, and bent blade brackets can cause your ceiling fan to wobble. To fix a wobbly ceiling fan, dust the fan blades, secure the mounting device, and tighten loose screws.
The Ceiling Fan Won't Reverse
If you've reversed your ceiling fan, but it rotates in the same direction, try turning off the fan and waiting for the blades to stop completely before flipping the reversal switch. Make sure the switch is not in neutral or worn out.
Noisy Ceiling Fan
Ceiling fans are known to make some noise, but you'll know when the noise coming from your ceiling fan isn't normal. Your ceiling fan may be making noise because it was just recently installed and needs to adjust, it has loose screws, its fan blades are cracked or unbalanced, or the wire connections are rattling against each other.
Faulty Speed Settings
A sudden change in airflow may be caused by malfunctioning speed settings. Your electrician can solve this problem by cleaning and lubricating the ball bearings and replacing the ceiling fan capacitor. If the motor becomes hot while the fan is running, the bearings are damaged, and the motor should be replaced. If the ceiling fan will spin only at a low speed, the capacitor is likely burned out, and there isn't enough power going to the motor. On the other hand, if the fan is running only at a fast speed, the pull cord may be disconnected or broken off.
Ceiling Fan and Light Kit That Switch On and Off
Before you have paranormal investigators inspect your home for ghosts that turn your ceiling fan and light kit on and off, make sure that the circuit breaker is functioning properly and the wire connections are not damaged.
Some ceiling fan problems are easier to fix than others, so don't hesitate to hire a reputable electrician at Old-Fashioned Electric if you need help repairing the ceiling fans in your Norcross home.
If you are looking for an Electrician in the Alpharetta area, please call Old-Fashioned Electric at 678-334-7758 or fill out our online request form.