How Pool Lighting Can Keep the Party Going & Keep Your Guests Safe in Alpharetta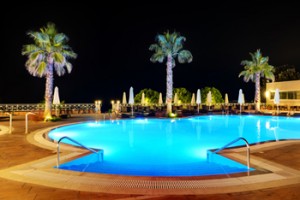 If you own a swimming pool, then you know how hard it is to maintain. Daily, you are dumping chemicals in it just so you and your family can swim not to mention skimming for bugs and leaves. How about evening plans to use the pool. Have you gotten Alpharetta pool lighting installed yet? Pool lighting can save your guests from getting hurt and keep that party going all night.
There are lots of benefits that nighttime illumination can provide for your home. It can also help create a safe haven as your pool is surrounded by a fence and also lights. Lights can save lives. It's mandatory for pool owners to have adequate pool lighting among durable fencing as well.
Finding the right type of lighting for your pool takes some major deciding on. You have to consider the terrain and also the type of pool that you have. A lot of homeowners are going with LED lights. That's because there are lots of advantages of using them.
Advantages of LED Alpharetta pool lighting:
Uses less power -If you're wanting a set of lights for the pool that are not going to cost a lot to operate, then LED is the answer. They are defined as being low voltage lighting. They can still illuminate the pool area, but use a lot less energy.
Last longer – LED pool lights last a lot longer than conventional lighting. This is one of the reasons why homeowners have them installed. They are a great investment for any type of pool.
Easier to waterproof -Waterproof lighting is what you need to feel safer in the evening. Swimming in the dark can present lots of problems, but now you can have LED pool lighting installed and feel at ease while night swimming.
Comes in a variety of colors – Sometimes a pool looks better when the lighting comes in all different colors. It gives it a unique effect. Call your local electricians to see about their installations and light colors.
You will be amazed at how well your pool lighting will turn out especially if you use the right electricians for the job. A good electrical expert can have those lights installed the same day so that you can be night swimming that evening.
Another reason why you will enjoy your newly illuminated backyard is because now you can entertain. That's more than likely why you got a pool in the first. Having friends over to swim can make for really good times and so can quality pool lighting.
Your Alpharetta pool lighting is one phone call away. Use the talented electricians from Old-Fashioned Electric and you'll see just what a major change that this lighting can do for your life.
If you are looking for an Electrician in the Alpharetta area, please call Old-Fashioned Electric at 678-334-7758 or fill out our online request form.