Landscape Lighting By Old-Fashioned Electric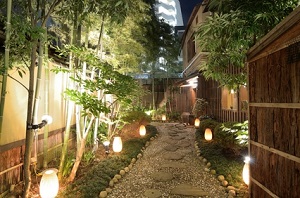 Lighting up your landscape serves several functions. When you have landscape lighting, your home has increased curb appeal, better security, and is safer for you and for visiting friends.
Security Lighting is just one type of lighting your landscape could use. If you have a swimming pool, it's also important to add some lighting so everyone is safe around the area at night time. You'll not want anyone falling or slipping on your property.
Landscape lighting improves the look of your yard and home. It can highlight certain features and really change the whole look of your property.
There are different light fixtures that provide different types of lighting.
Some of the fixtures are:
Spot lighting
Flood lighting
Wall lighting
Post lighting
Flush-mount lighting
Pendant lighting
Dark sky lighting
Floor lighting
Pathway lighting
Low voltage lighting
Deck lighting
Pendant lighting
Ceiling fan lighting
Waterproof lighting
There are many choices you can make when deciding upon your landscape lighting needs. Sometimes when there are a lot of options, it becomes hard to choose between them.
With lighting, the different surfaces and objects that need to be illuminated will need certain types of light to illuminate them. It becomes important that the right type of light is put in the right place in order to achieve a pleasing look as well as the lighting purpose.
For instance, you don't want to put flooding or spotlighting where there is already a lot of light from other fixtures or the object you are trying to focus on will not be highlighted in your landscape design.
Or, putting two or three low light deck lights in and expecting it to provide lighting for your entire deck surface just isn't going to work.
Color may also play an important consideration for you. Color helps to set a certain mood for you in your landscape. It can illuminate an area with a specific color of glow, making the area feel how you want it to feel.
Today's lighting options will also allow you to change colors with LED lighting technology at just the push of a button.
Ask our professionals here at Old-Fashioned Electric about your choices when it comes to landscape lighting. You will be surprised at how many options you have available to make your home safer and the outdoors more aesthetically pleasing.