Electrical Repairs – Alpharetta, GA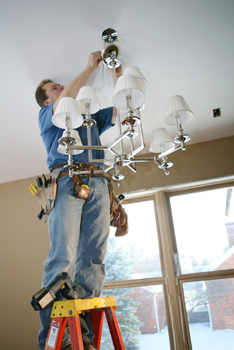 When it comes to your home's electrical components, do you have a local electrician that can repair them? Call Old-Fashioned Electric as we can do Alpharetta electrical repairs for you. You won't need to rely on any other electrician when you have us on speed dial. We can repair anything electrical. Call and put our Alpharetta electrician to the test.
There are plenty of reasons why you should call a professional electrician. If your panel box is filled with circuits that trip constantly, then call us. Our electricians know what to look for and know how to repair the problem as we have had our presence in the area since 2001.
We can also repair ceiling fans. We understand that your ceiling fan is necessary in keeping your home chilled. Nothing beats the comforting feeling of a ceiling fan on those warm summer days. But what about when it stops working suddenly? No more worrying whenever you an contact our professional electricians.
With Alpharetta electrical repairs, we can fix that ceiling fan and make it whole again or any other electrical components in your home. It hurts looking at an electrical items that don't work. Contact us and we'll make it happen. When it comes to your home, Old-Fashioned Electric cares.
Old-Fashioned Electric offers troubleshooting. If you're asking yourself what electrical troubleshooting entails, it's looking for electrical problems within your home. Electrical problems are all a part of a home's history as you'll experience more than one in your lifetime.
When you experience an electrical problem, be sure and have Old-Fashioned Electric take care of your problems as we do everything from outlet repairs to lighting installation. We won't leave you in the dark when you utilize our services.
Reasons to call in an electrician:
Flickering lights – When lights start to flicker in your home, chances are that you don't have a bad bulb. You just need it repaired. Older wiring may be the result of a poor installation gone wrong. Call us immediately if you experience this.
Too many things plugged into your outlets – Lots of homeowners tend to plug all of their electrical devices into one outlet. This causes an "octopus" effect. It also runs the risk of surging. A power surge can destroy all of your devices.
Two pronged outlets – Older homes have older outlets. Most current electrical devices these days come with three prongs. Older wiring only had two. You do the math. What would you do in this case?
Service panel is old and rusted – Old-Fashioned Electric does service panel upgrades. Repairs for your electrical service panel include updating your circuits. Cal to have yours looked at today.
Your home deserves to be treated right as this includes keeping up with the electrical aspect of it and maintenance. Call Old-Fashioned Electric whenever you need an Alpharetta electrical repairs.
---
Recent Electrical Repairs Related Articles
Why Your Outlet Isn't Working

You're about to go to bed, and your dead phone is in your hand. You plug it into the wall outlet by your bed, and go to sleep thinking that it will be fully charged when you awaken. However, you wake up groggy and without a […]

6 Common Electrical Problems

Electrical failures can cause more than frustration – they can cause serious damage to your wiring and even an electrical fire hazard. Assessing the source of the electrical failure is crucial, and once you've identified the root of the problem, consider reaching out to a reputable […]