Panel Upgrades – Alpharetta, GA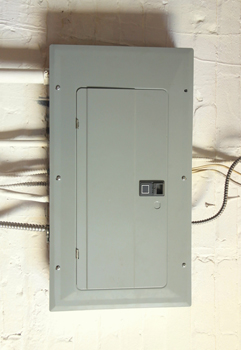 When was the last time that you had your electrical panel serviced? If it's been a while, then you're going to need Old-Fashioned Electric. We're the electricians that can change the safety of your home very conveniently. Safety is a number one concern of ours as we'll provide you with that whenever we come out for your Alpharetta panel upgrade.
The way that your electrical box runs is through outside lines. Your complete electrical usage cannot exceed what the panel can handle. There are different sized amps that come into the home and your box needs to be able to handle them all. Lots of homes also have smaller panels which don't help with large amp capacities.
Upgrading your circuit box is vital to the safety aspect of your home. For better appliance function, you should call our Alpharetta electrician. In order for your home to be a lot safer, you are going to need an upgrade from the professionals.
What can an Alpharetta panel upgrade do for your home?
Increase safety
Save you money
Keep your electric under control
Prevent fire
If your panel box is outdated means that you may be in jeopardy. Don't let your home fall victim to a house fire all because you neglected your electrical system. Have yours upgraded today and make your home a lot more efficient.
Particular needed for an upgrade
The electricians at Old-Fashioned Electric are always equipped with the tools needed to perform an upgrade. We also have the knowledge and skills needed to pull the job off. Since 2001, we have been the trusted electricians in the area. You can learn a lot from us as we have the experience needed to tackle tough electrical problems.
There are no hidden charges with an upgrade service from Old-Fashioned Electric. We give you a fair estimate so that you don't have to worry about mystery charges to complete a job. Whether you know it or not, your home's electrical system has lots of value.
Master Electricians works around your schedule. We offer our upgrade service as a convenience to you. There's no need to stress because we're there for you from beginning to end. Our electricians are trained, skilled, certified and insured to be on the job.
Your electrical panel needs to be maintained yearly, especially if you live in an older home. Doing so will provide you with a lot more comfort. If you want to feel more relaxed in your own home, then call on Old-Fashioned Electric for an Alpharetta panel upgrade. Schedule one for your home today.
---
Recent Panel Upgrades Related Articles