Electrical Safety Inspections – Alpharetta, GA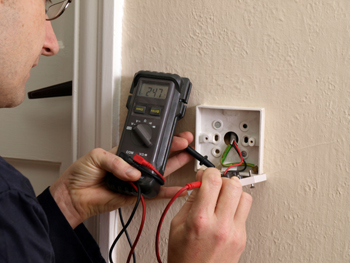 Looking for someone to perform an Alpharetta Electrical Safety Inspection in your home or business? You can always depend on Old-Fashioned Electric for quality electrical services. Call today to schedule yours and make your home or business a lot safer to be in. You won't regret your decision to go with our talented Alpharetta electrician.
All electricity runs behind the scenes which means that you really don't see it happening. Electricity provides home and business owners with a lot of comfort. Being comforted allows people to enjoy their electrical systems and not have to worry.
The fact is; electrical problems are one of the number one reasons for house fires across the U.S. These fires tend to erupt from appliances that are not working properly, bad home wiring and many other things. You do not have to worry just about house fires, but also your life.
Each year lots of people get shocked in their own homes. Some shocks can result in injuries if not death. In order to prevent this from happening, it's best to call Old-Fashioned Electric. We can perform our Alpharetta Electrical Safety Inspection which will bring you peace of mind.
Knowing what's wrong with your home's electrical system will make you feel a lot better even if it's costly. Some types of electrical repairs can be costly, but with the investment. What would you rather have, a home that's a fire hazard or a safe home environment?
Electrical items to be checked out during inspection:
Panel box -Most electrical problems stem from older electrical panel boxes. Panel boxes that are not updated will result in fire hazards. Older homes are generally spots where you will find outdated panel boxes.
Appliances – A short in your appliance can spark danger. Have your dryer, refrigerator, stove and other electrical components checked out by our professionals. If they are making your home's electrical bad, then they will need replaced.
Switches – If you go to turn on the lights and the switch doesn't work, you can always count on the electrical pros at Old-Fashioned Electric. We know your home's electrical and can get it back to a functioning order as soon as possible.
Outlets – All outlets will be checked during the inspection. You need working outlets in order for your devices to stay charged and operable.
Don't let your home continue to be a tinder box. Call us and make an appointment today. You'll be doing yourself a favor as our technicians will do the inspection right and alert you to any repairs that need done along the way. Your Alpharetta Electrical Safety Inspection is only a phone call away.
---
Recent Electrical Safety Inspections Related Articles
3 Electrical Safety Tips For The Fall

Now that fall is finally upon us, most homeowners are taking a bit of time to enjoy the many different aspects that make this season such a great time of year. With so much to do this fall, it can be easy to forget about some […]

What to Expect From Your Electrical Safety Inspection

There is nothing quite as convenient in your home as your residential electrician system. Of course, there is also nothing quite as potentially dangerous as this same system, if it has not been checked. Knowing how to safely use your electrical system is one thing. Ensuring it […]