Electricians in Norcross, GA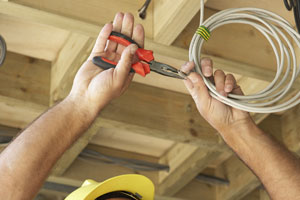 Looking to make your home a lot safer? You can start this process by contacting the local Norcross electricians from Old-Fashioned Electric. We're the electrical maintenance people that can help you keep up with your home's electrical system. Don't wait until your home needs major repairs done. Call our Electrician today and make an appointment.
Norcross Electrical Repairs
Electrical maintenance saves money on repairs. It's that simple. Whenever you have our electricians maintain your home's electrical components, you are investing in a home that's free of problems and a home that is free of electrical issues becomes repair-free.
Types of maintenance we provide for the home:
Panel upgrades -By replacing your old electrical panel with a new one, you are taking your home in the right direction. Making your home problem-free starts with the electrical.
Wiring replacement – Older wiring in the home can cause lots of problems. These problems can cause you to spend lots of money on unnecessary repairs. If you would only take care of things before they get out of control, they won't nickel & dime you so much.
Surge protection -why ruin your favorite electrical components? Before you have a surge in your home, have surge protection installed and make your home and electrical devices much safer.
Norcross Lighting
Let there be more light outside of your house. If you are in the market for new outdoor lighting, then call Old-Fashioned Electric. New lighting can provide your outdoors with the safety and security that you need in order to stay out talking with your friends all evening.
Types of outdoor lighting:
Landscape Lighting – Landscape lighting highlights your flower beds and pathways at night. This type of lighting also prevents any accidents from occurring on your property.
Low Voltage Lighting – This lighting will help you save money while illuminating your outdoors. For better and more efficient lighting, make sure that it's low voltage.
Security Lighting – To protect your home, make sure that you check out our security lighting. Security lighting helps create a safer outdoor atmosphere that deters thieves and burglars.
Contact the Norcross electricians today and schedule your free lighting consultation.
Norcross Electrician
An electrician is needed for almost anything in your home as most items run off of electricity. When something happens and you don't know where to turn, you can always trust Old-Fashioned Electric. For years we have been the go-to guys for repairs and maintenance.
Don't let another Norcross Electrician repair your electrical system. Go with the ones who are licensed and insured. Chances are that if we cannot fix it, then no one can. We're the experts who care about the condition of your home's electrical system.