About Us – Old-Fashioned Electric – Electrical Services in Alpharetta, GA
When seeking a dependable Alpharetta electrician, call Old-Fashioned Electric. We do everything from quality installations to awesome lighting installations. We're not the electricians that your grandparents used to hire. We use state-of-the-art technology to ensure that your home or business is free of electrical problems.
Electrical problems can strike at any time and without warning. When they do, do you have a local electrician that you can refer to at a moment's notice? If not, take advantage of the electrical services of Old-Fashioned Electric.
We will work hard to ensure that you are not experiencing major electrical problems that can result in a fire if left unattended. Electrical problems such as knob & tube wiring can be a hazard, but easily replaced with modern wiring when observed.
Who needs Alpharetta electrical services? You can never say that you won't need them. We are locally owned and operated and have been so since 2001. Whenever you call for our services, we'll be out immediately because we know how important it is to you.
Reasons to call for repairs:
Flickering lights
Fuses blowing constantly
Smokey smell in the house
Dimming lights
Switches broken
---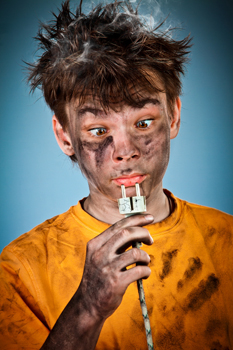 These and many other reasons are why you should be taking care of electrical problems as they happen. If it's happening on a daily basis, then protect your home by hiring professional electricians. Your home depends on a good electrical technician.
Besides being able to do electrical services, we want the community to know that we are licensed by the state of Georgia to do repairs and installations. Never hire an electrician that cannot show proof of a license and insurance.
Your home will be much better off with a functional electrical system. Old-Fashioned Electric can even upgrade your electrical panel box. Older panel boxes do not allow enough voltage to flow through them as there are bad components inside them.
If you care enough about your home, then go with the electrical services of Old-Fashioned Electric. There is no job too big or small enough for us. We are who the locals come to when they need quality work done.
We do commercial grade electrical work as well. New construction can provide your building with the wiring installation that you are looking for, so whenever you feel that there aren't Alpharetta electrical services that can meet your needs, think again. We are always there to lend a hand.
Alpharetta Electrical Services:
Aluminum Wiring Replacement
Ceiling Fan Repairs
Landscape Lighting
Home Generators
Lighting Repairs
Security Lighting
Electrical Wiring
Lighting
Knob & Tube Wiring
Pool Lighting *Electrical Safety Inspection
GFCI Electrical Outlets