Security Lighting Services By Old-Fashioned Electric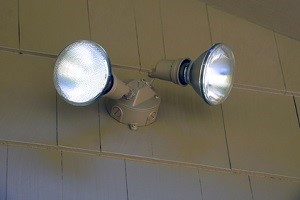 There is nothing a thief or other criminal loves more than the coverage of darkness to commit their crimes. More crimes are committed in the dark than at any other time.
They know that in the dark, they have a much better chance of going unseen and unnoticed. The last thing anyone wants is a criminal lurking around on our property, waiting for the moment when they can commit their crime.
Security lighting isn't just for us to be able to see at night. The main focus of security lighting is to provide the property with sufficient lighting to discourage criminal behavior.
Every policeman and security officer will tell you to light up the outdoor areas of your home, sufficiently enough to be illuminated to the degree where patrolling security can spot a predator.
Most of us aren't aware that police often patrol our neighborhoods. Having a well-lit exterior will only assist them in improving your safety in your home or business.
Security lighting will also help you and anyone who visits your home or business see better at nighttime. You can avoid mishaps on your property when people can see well enough in the dark. This improves everyone's safety.
If your home lacks security lighting, it's time for you to consider adding it.
There are several recommended locations to add lighting that will illuminate and protect certain areas.
Over the garage
On all four sides of the home
In front of Sheds or outdoor buildings
On driveways
At the front curb
Along sidewalks
Bushy or tree areas with dark hiding place coverage
Along solid fences
When adding additional lighting for security, you may find that you will need to upgrade your current electrical systems to handle the new load.
If you do, it is no problem for us here at Old-Fashioned Electric. Our skilled professionals can handle any upgrade or installation needs you have, including commercial work. Just give us a call and we will schedule an appointment to come assess and discuss your security lighting needs.