Electrical Remodeling Services For Alpharetta Businesses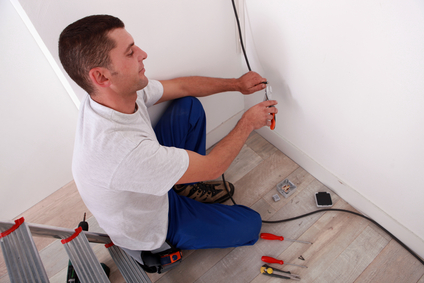 If you're an Alpharetta business owner who's looking to update your commercial space, electrical remodeling is a task that you shouldn't overlook. A well-planned and executed electrical remodel can not only improve the functionality of your space, but it can also increase your business's energy efficiency and safety as well. As the premier electrician for Alpharetta, our team of skilled professionals can provide you with the comprehensive electrical remodeling services - including tenant build-outs - you need to update your commercial space and prepare it to meet your functional needs. Are you looking for a professional Alpharetta electrician you can trust to help with your business's electrical remodeling needs? If so, give our team of skilled professionals a call today and let us show you the kind of quality results that have helped make us the most trusted name for electrical remodeling and electrical repairs the area has to offer.
Here at Old-Fashioned Electric, our skilled commercial electricians specialize in helping businesses like yours create the kind of space that works for your unique business needs, and our electrical remodeling services are one of the key ways that help us do so. Our team of skilled electricians has the experience and expertise needed to tackle any project you have in mind, from small upgrades to full-scale electrical remodeling. If you have any questions about our full lineup of quality electrical remodeling services, or if you'd like to schedule an appointment for a consultation, give us a call today. Our team of experts is always standing by and would be happy to assist you.
Commercial Electrical Remodeling In Alpharetta
Upgrade your commercial space with our expert electrical remodeling services! From lighting upgrades to panel upgrades and energy efficiency upgrades, our licensed and experienced electricians can tackle any project. Contact us today for a custom plan that meets your unique needs and budget.
Reliable Commercial Electrical Repairs
Is your business experiencing electrical issues? Don't let a faulty system put your business at risk. Our team of experienced electricians specializes in commercial electrical repair services. We can quickly diagnose and repair any electrical issues, from tripped breakers to flickering lights. We pride ourselves on providing fast and reliable service, so you can get back to business as usual. Contact us today to schedule your repair service.
From Your Hands To Ours, Let Our Alpharetta Electricians Fix It!