New Construction – Alpharetta, GA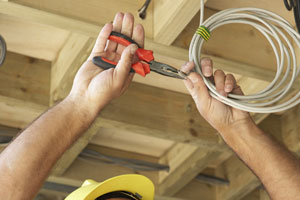 If you're building a new business or adding on to the one you have, then you'll want to seek out Alpharetta new construction services from Old-Fashioned Electric. You'll be impressed at how well we can wire your home/ business. Your wiring will be installed by professionals who are licensed.
Adding on to your business/home will help provide more space. Also, it will help create better energy efficiency throughout. A new addition will also increase the value of your dwelling. New wiring will also keep it updated for many years.
Old-Fashioned Electric will install wiring in any part of your dwelling. Most good wiring jobs start in the basement where the wiring can be hidden from pain site. Employing a good electrician is the best thing that you can do as as far as your wiring is concerned.
In order to move forward on your newt big project, you're going to need the help of a Alpharetta electrician. We've been lending our hand in wiring and electrical related jobs since 2001, we are locally owned and operated.
Wiring jobs are best left to people who possess skills needed in that area. In order to wire your dwelling, you must know where to lay out the wiring and know what type of wiring will handle your appliances. That's why you need the expertise of Old-Fashioned Electric.
What a qualified electrician can do for you:
Professionalism – Hiring a professional electrician that's trained and certified makes more sense than hiring one that's not even insured.
Expertise – Only a professional can lend their expertise especially ones that have been in their trades for long periods of time.
Code – To ensure that everything is up top code, call in the electricians at Old-Fashioned Electric. We will make sure that your home is up to code and to Georgia's electrical standards.
Safety – There is nothing more cozy than a home that's free of electrical problems. If you're starting over new, then give us a call.
You wouldn't use the same wiring for your telephone as you would for your washer & dryer. Make the smart move and choose an electrician that knows the differences between aluminum wiring and knob & tube.
Contact us today to speak with a representative who is knowledgeable and able to answer any of your questions regarding our new construction service. We realize that a venture like adding onto the dwelling can be fun yet frustrating.
Alpharetta new construction can get you on your way to enjoying your dwelling. Don't waste time as our electricians need to do the wiring before other facets of the addition can be done.