Your Alpharetta Electrical Troubleshooting Experts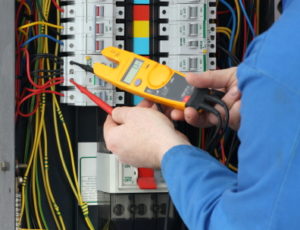 When electrical problems arise in your home it's not always easy to know exactly what's going wrong. That's where electrical troubleshooting comes in. Without the proper training or proper equipment, it is almost impossible to identify the cause of the problem. So when you are experiencing problems with the lighting, wiring, or anything else, call the Alpharetta electrical troubleshooting experts at Old-Fashioned Electric.
We specialize in wiring repairs, replacement, new installation, and troubleshooting. We utilize the most advanced equipment in the industry in order to accurately locate any damaged or faulty wiring and then give you the solutions to fix it. All of electricians are state licensed and insured in order to guarantee quality work and precision every time.
Electrical troubleshooting is an essential part of providing good electrical services. Inexperienced electricians sometimes would rather tell you that something needs replacing if they don't know how to repair it. Our expert Alpharetta electricians will never be dishonest with you about your electrical systems. We are expert troubleshooters with all the latest technologies and tools to make fast work of your troubleshooting!
We Troubleshoot All Wiring Systems
Not all electrical systems are the same. Over the last century, electrical wiring and components have changed dramatically. So when you are ready to have your site inspected, you can feel confident that no matter what type of system is involved, we have the training and the expertise to assess all parts and components. We do work on all systems including new and old whether there is aluminum, copper wiring, knob & tube, or anything else. Whether your house has recently been built or it's over five decades old, we can easily identify weaknesses in the wiring and go to work to fix the problem in no time at all. Contact us today and let us evaluate your new or old wiring system.
Troubleshooting For Your Home
As a homeowner in Alpharetta, you can't afford for your electrical system to be in a dangerous configuration. You need an electrical contractor that you can depend on to provide efficient service, dependable work, and affordable rates that stay within your budget. At Old-Fashioned Electric, we have homes and families that we care about too. So we understand the needs of homeowners and families. Therefore, we offer flexible scheduling and non-intrusive work, so that we can fix the problems without getting in the way of your daily routine. We work with all types of electrical systems in a home.
Complete Troubleshooting From Start to Finish
When hiring a professional to troubleshoot your electrical wiring, you look for key qualities such as accuracy and thoroughness. After all, a misdiagnosis can be both costly and dangerous. Our electricians have been thoroughly trained in every component and part of a home electrical system. We inspect all items such as the wiring, outlets, switches, all connections, panels and everything else. We're not done until the inspection is complete and accurate. We always know what to look for, and can provide you with the answers that you need. You never have to worry about if the inspection or the work done on your system is done correctly. We are committed to your satisfaction.
Why You Should Use A Professional For Electrical Services
As a homeowner, it's always tempting to add wiring or make an electrical repair yourself. With the electric system, however, there are several reasons why hiring a professional to perform troubleshooting is a smarter decision. Other than that the work should be done right, the number one reason is safety. A trained professional knows what issues can cause a dangerous environment in your home.
Another reason is insurance. If a homeowner makes a mistake with wiring and disaster follows, then insurance companies may not cover the damages. Only a licensed electrician will understand what needs to be done to comply with local safety building code requirements. All homeowners are responsible for the work to comply with the city, state, and national codes. Our professionals have been trained and stay updated on all the latest code requirements, so there won't be a problem with safety or code compliance.
---
Recent Electrical Troubleshooting Related Articles
Advice From Your Alpharetta Electrician

Having problems with your power is never easy, and as your favorite Alpharetta Electricians, we don't want to see you left in the dark when your power goes out so we've put together some advice for you. When the lights and heating go out in your Alpharetta, […]

Things That Electricians Look For While Troubleshooting in Homes in Dunwoody

There are lots of services in which an electrician can be a help. Things such as repairs can be done very easily and conveniently. Whenever you think that Dunwoody troubleshooting should be done in your home, give your local electrician a call. Many have convenient hours […]
For more information about our Alpharetta Electrical Troubleshooting service, please call Old-Fashioned Electric at 678-334-7758 or complete our online request form.