Electrical Wiring – Alpharetta, GA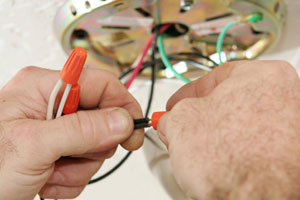 Lots of different homes have lots of different wiring in them. Older homes that were built during the 1940s still have knob & tubes whereas other homes, built during the 1960s and 1970s, still have aluminum wiring. If you are in need of an Alpharetta electrical wiring service, call Old-Fashioned Electric.
Your wiring replacement or installation should come from licensed professionals. Professional Alpharetta electrician, like the ones you'll find at Old-Fashioned Electric, can come to your home and safely provide you with a wiring service of your choice.
It doesn't matter if you need a home repair, we can make that happen as we are the wiring experts in the area. New wiring can easily be done to provide your addition with functional outlets. Working outlets can keep your electrical devices charged and operational.
Alpharetta electrical wiring services offered by Old-Fashioned Electric:
Surge protection – We can install surge protectors for the home. These devices will keep all of your electric devices from surging and needing to be replaced.
GFCI outlets – GFCI outlets will keep your devices from tripping. Shorting can cause shocks and shocks can send you to the ER if not careful. Have these installed in your home today.
Lighting – Good interior lighting has lots of intricate wiring. You don't have to take matters into your own hands. Let us brighten up your life with lighting installation.
Wiring – The wiring inside your home stays behind the scenes. You never really get a chance to see it unless something happens to it. When it does, call Old-Fashioned Electric.
There are lots of ways in which electrical wiring affects the home. Most of the home's electrical system is based on wiring as everything runs off it. When your lights begin to flicker, it's time to call in a professional electrician.
You should always get an estimate before going forward with any type of electrical service. A simple rule of thumb is to get at least three different estimates. This will help the wiring service to be broken down and what you'll be paying for labor.
There's nothing much that we can't do whenever it comes to your home's electrical problems. Call us today as we have an immediate response time. You'll find that we are never late and always on time to take care of your problems.
Our Alpharetta electrical wiring services are available to help you as we care about the condition of your home's electrical system. In order to have a more efficient home, call Old-Fashioned Electric. We're there to assist you whenever you need us.
---
Recent Electrical Wiring Related Articles