Electrical Lighting Repair Services By Old-Fashioned Electric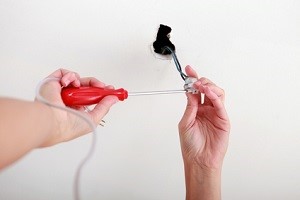 Since 2001, Old-Fashioned Electric has been working with customers in Alpharetta, GA and surrounding areas, providing safety inspections, landscape lighting, and lighting repairs. We also provide full electrical services for the area.
At Old-Fashioned Electric, we enjoy building customer relationships with our neighbors and friends. We know that good customer relations are important if we want to succeed. Our customer satisfaction and safety are the number one priority to our Alpharetta electrician.
Skilled Electrical Lighting Troubleshooting
Electrical problems can occur at any time. When they do, it can mean that the problem is minor or a major and dangerous issue.
We have been trained for years to evaluate your electrical systems and issues. When a repair needs to be done, you can trust that Old-Fashioned Electric can handle the job with professional skill and ease.
If, for any reason, you think you have an electrical problem, we hope you will call in a professional right away to have your electrical lighting systems evaluated.
Your safety is our number one priority. Some signs you have an electrical problem:
Flickering or Dimming Lights
One light or a few lights stops working along with an outlet on the same and/or adjoining walls or in the same room. This is likely a blown fuse.
Smokey or plastic or rubber burning smells – wiring or connection short
Switches don't work
Black soot on the areas near outlets or switches.
Lighting Repairs and Electrical Upgrades
When your lighting flickers or dims, it could be a sign that you do not have enough power provided by your current electrical system. More often than not, you will need a panel upgrade, which will likely include additional wiring and possibly outlets.
You may also have no problems at all with your lighting or electrical system, but just may want to add some lighting to your home. It is important you have a professional perform any electrical function. Don't try to do it yourself, and do hire someone licensed and skilled.
Otherwise, you are dealing with someone who may or may not know how to do the job properly. You don't want to risk the safety of your household on someone who could make mistakes that end up costing lives.
Trusted Safety Experts
Everything we do at Old-Fashioned Electric is centered on doing the right thing for our customers. We strive not to cut corners because your safety is of utmost importance.
We will never advise you to do anything that doesn't need to be done, and we will never overlook doing something because doing it another way is easier.