Things That Electricians Look For While Troubleshooting in Homes in Dunwoody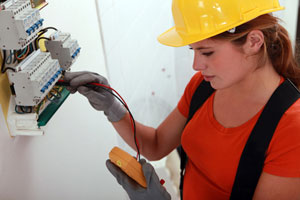 There are lots of services in which an electrician can be a help. Things such as repairs can be done very easily and conveniently. Whenever you think that Dunwoody troubleshooting should be done in your home, give your local electrician a call. Many have convenient hours and are locally owned and operated.
Electrical safety is something that all electricians should practice. There are many ways in which electricians practice electrical safety. One of them is having the proper tools and related equipment. This helps to get a job done quicker and also prevents any mistakes from occurring.
Troubleshooting helps alert homeowners of electrical problems. Things such as your wiring can be affected as well as your outlets and switches. Also, when an electrician comes out to your home, they can also check your panel box.
How Dunwoody troubleshooting works in the home:
Locates problematic areas of the homeowners
Lists the appliances that are not working
Determines circuit breakers that are tripped
Ensures correspondence between electrical components
Once everything is checked out, the next step is to make sure that they all work properly. A properly working electrical system can provide you with better energy efficiency. Saving money on your energy bills does not have to come at such a cost.
There's lots of ways in which you can save money on your electric bills. Besides a working electrical system, you should always turn the lights off in the room that you're not in. Turning off the lights will keep you electric bill at a minimum.
Another thing to prevent high energy bills is to do a sweep. Things such as leaving your ceiling fan running can cause your energy bills to skyrocket. Whether you realize it or not, every time you leave a light on or ceiling fan run you are paying for it.
Troubleshooting in your home is the first step of many in how you can go from being broke every month to having more money in your pocket. Having more money in your pocket means that you have made your home as energy efficient as possible.
There are lots of other ways in which you can make your home more efficient. One of them being new appliances. Older appliances run constantly and break down a lot. Whenever they do they end up costing more than they are worth.
Look into new appliances and also energy saving light bulbs. These are not your traditional type of bulb. They are constructed to last and will not use up a lot of energy. Help protect the environment by using less energy. Call Old-Fashioned Electric for their Dunwoody troubleshooting service today. They are the electricians that know a thing or two about a home's electrical system.
If you are looking for an Electrician in the Alpharetta area, please call Old-Fashioned Electric at 678-334-7758 or fill out our online request form.