Ceiling Fan Repair Service In Alpharetta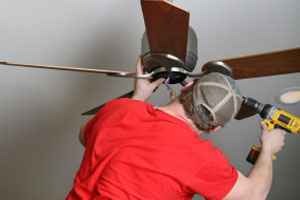 If you are having problems with one or more ceiling fans in your Alpharetta home, it is likely possible that they can be repaired. Rather than replacing your ceiling fan, why not have it repaired instead? Unless you are tired of the look and want something new, it may make more sense to repair it.
You have come to the right Alpharetta electricians for local ceiling fan repair service. Old-Fashioned Electric can meet all your electrical service needs. Accessing the services of a local electrician will also ensure that any other problems will be discovered. It's not uncommon for there to be wiring or other electrical issues that cause the problem. If something else is going on, you will have the professional electrical repairs you need.
Old-Fashioned Electric is here to make sure your ceiling fans are repaired or replaced safely and properly. If your ceiling fan can't be repaired, it will need to be replaced or removed. While this may seem like a simple process, it's better to let a licensed electrician take care of it for you. If you are looking for a reasonable and competitively priced ceiling fan repair estimate, call us today!
Insured & Bonded Electricians
Master Electrician Services
24/7 Emergency Electrical Repair
State Licensed Electricians
Residential & Commercial Service
Discounts For Veterans, Seniors, Law Enforcement
Ceiling Fan Repairs Throughout Your Home
Ceiling fans are often installed in a home all at the same time. This can mean that all the ceiling fans start to develop problems around the same time. Do you have old ceiling fans that need to be repaired or replaced in the bedrooms, living room, covered porch, deck, patio, or sunroom?
If so, we can upgrade them or make sure they are functioning properly throughout your home. Ceiling fans are an excellent choice for upgrading the room. They can completely transform a place into a comfortable, relaxing area. With a gentle breeze blowing, it's impossible not to relax and enjoy yourself. Our experienced electricians can repair or install a ceiling fan in any location of your home. Or, if you have a ceiling fan you would like to change out, that's no problem either.
Did You Inherit Broken Ceiling Fans?
It's not uncommon for people to move into a home only to discover that the ceiling fans don't work right or make annoying noises when turned on. It's unfortunate to inherit these problems, but don't despair because they can likely be fixed. Ceiling fans are often made with plastic parts instead of steel, which means there are weaknesses present that cause them to break down sooner than they should. Many homeowners can rely on the services of local electricians like us who can solve these problems.
Old-Fashioned Electric can take care of your ceiling fan repairs today. We offer a large range of other electrical services in Alpharetta, so be sure to check them out. If you have any questions or would like further information, we are standing by to take your call!
Ceiling Fan Upgrades
Of course, we can also upgrade your old ceiling fans or install a new ceiling fan for you anytime. We'll run the wiring necessary and make sure all the electrical components are in place to support the ceiling fan.
There are many real features you can get when installing a new ceiling fan or upgrading to a newer style. Ask us about convenient switches and remote control operation for your ceiling fans. You have the option of using a remote control with a lot of the newer fans out there, so that would be something you'll want to consider if you need to replace an old one.
Contact our Alpharetta electricians at Old-Fashioned Electric today for ceiling fan repairs and other services. We'll make sure that everything is handled properly and that the electrical system in your home is safe. Our master electricians offer a wide range of services, so don't hesitate to call anytime when you need our help.
---
Recent Ceiling Fan Repairs Related Articles
When Should You Schedule a Ceiling Fan Repair?

Ceiling fans are common fixtures that Norcross homeowners may take for granted until they begin to malfunction. When problems occur, an experienced electrician can troubleshoot the complication and perform a ceiling fan repair. Ceiling fans increase the energy efficiency of your home by limiting your need […]