Home Generators – Alpharetta, GA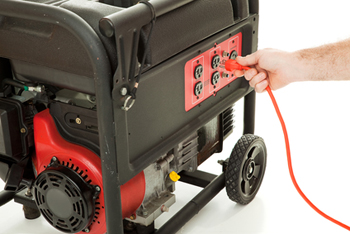 How many times have you sat by and let a storm defeat you? Having no power for days and hours can become very frustrating as food spoils and there is no communication with the outside world. Well, Old-Fashioned Electric has some great news. Alpharetta home generators are coming your way. These home devices will kick right on whenever your power goes out.
Do you have a backup plan whenever your lights go out? If you don't, then you're just like many other homeowners. Georgia is known to have violent storms, in the summer and winter, that can knock power out for days on end.
If you want consistent power in the home, then you should look into a generator and call our Alpharetta electrician. There are two main types of these home devices. When you do not have a plan for keeping your family safe, then call Old-Fashioned Electric.
Why own an Alpharetta home generator?
Your family will not be harmed during power outages – You won't have to worry about your family's health whenever you have one of these devices installed in your home. If you have someone in the home that's on oxygen or has a medical condition that requires their mechanism to be plugged in, then call us.
Keeps food fresh with a working refrigerator – Your food won't spoil as you'll have a working refrigerator. Keeping your food cold helps prevent bacteria from developing. These devices will change the way you feel about storms from now on.
Permits communication with society – With a generator, you can plug in your television and also radio to keep updated on the latest weather events. You won't feel out of the loop with this home device.
Able to keep AC & heat running – Having no AC during a storm can make for a rather stuffy home environment and also be hazardous to your health. Keep your home cool this summer when the power gets knocked out.
You can put an end to all of your worries. No more will you have to suffer another day gone by without any power. Our home generators will keep the power on and your family safe. There's no better mechanism for the home.
If you have been affected by storms in the past, then maybe it's time to call Old-Fashioned Electric. You've put it off for way too long. Let our experienced installers come out to your home and fit one of these devices in.
When you're looking for an Alpharetta home generator, you come to us. Since 2001, we have been delivering these devices to homes across the region. We want you to take advantage of this service so that we can keep you safe.